Kanellängd ~ Swedish Bread with Cinnamon and Pearl Sugar
Kanellängd or Swedish Bread topped with Swedish Pearl Sugar is one of my favorite treats of the holiday season. My friend Susan makes loaves of this delicious bread, and I always try to remain a permanent friend so I'm on the bread list. Ha ha. We've always wanted to get together to bake this super pretty bread, and 2018 was finally the year!
This recipe is really special - Susan's mother-in-law brought her recipe from Sweden when she immigrated to America. Susan's husband Rick remembers making bread every holiday season - this was before the ubiquitous Kitchen Aid mixer with dough hook so he remembers lots of mixing and kneading. I found recipes online and some have cinnamon and cardamom. But Rick's mom didn't like cardamom so that got nixed. I always love seeing how a traditional recipe is adapted by each family or generation.
Aren't they sooooo pretty!?!? And they are just as delicious!!
The recipe calls for a mix of Swedish and US measurements - isn't that a true immigrant recipe? Rick's mom had her own deciliter measuring cup (100 milliliters = 1 deciliter) that Susan & Rick continue to use to this day. Do you have inherited cooking tools that you treasure?
This dough is a sweet dough made with all-purpose flour, whole milk, butter, sugar, eggs, yeast, and a little salt.
Dough! Kneading a bit before setting it aside to rise!
After an hour, the dough was punched down, kneaded, and divided into 8 equal pieces (using a scale is very handy). Then each piece is rolled out into a rectangle. Brush liberally with softened butter.
Sprinkle with sugar and cinnamon.
Roll the long end as tight as you can.
Pinch seal as best you can. Place seam side down on the baking sheet.
Okay. Here's the fun part. Using kitchen shears, cut sections of the log. Cut as close to the bottom of the log as possible. Fold over the just cut section in the following pattern: Center, Right, Left or Center, Left, Right - just be consistent. It's a good idea to pinch the top of each leaf so it keeps a nice pointy top.
Here's another view of the log. Center, Right, Left, Center, Right, Left...until you are done. You will need to nudge the uncut log up on the tray as you proceed to make sure you don't severe the bottom as the log stretches (this will make more sense when you are doing it).
By the way, when you get to the end, cut off any extra dough. Plop all those edges onto some part of the tray. Be sure to egg wash and Swedish pearl sugar those scraps and bake them off. Then you get to eat those scraps when they come out of the oven and save the loaf for your friends.
Cover the shaped loaves with a kitchen cloth and let rest for another hour to rise.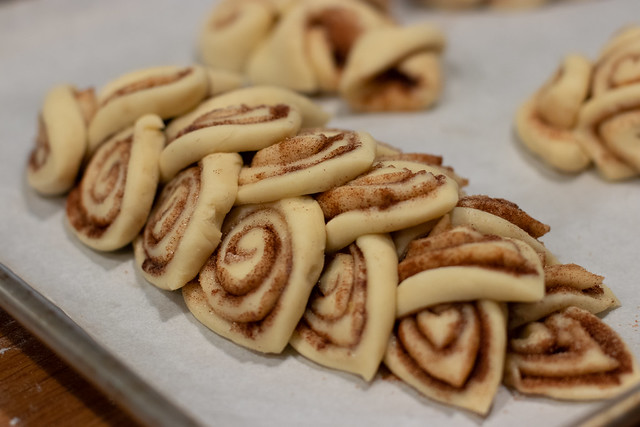 After the second rise, preheat oven to 350 degrees F and get them ready to bake!
Brush each loaf with an egg wash. Be sure to get all the nooks and crannies. (Oh, in the upper left corner you can see the scrape pile of deliciousness). We fit three loaves on a half-sheet tray.
Top each loaf with a generous amount of pearl sugar. (Try not to eat all the pearl sugar out of the bag like I tried to do...it's so tasty and fun). Bake for 15-20 minutes at 350 degrees (length depends on the size of your loaf). Our 8 loaves baked for 19 minutes.
Done! Yum! After 5 minutes, remove from tray and move onto cooling racks.
Kanellängd - Swedish Bread Recipe (via Rick's mom)
Bread dough:
5 dl (deciliter) whole milk = 2.11338 US cups
1 1/2 sticks butter (12 tablespoons)
2 dl sugar = .85 US cups
1 egg
1 tsp salt
2 packages active dry yeast
1 T granulated sugar
18-20 dl all-purpose flour = 7.6 to 8.45 US cups
Filling:
Softened butter (about a stick)
Sugar
Cinnamon
Topping:
Egg
Swedish pearl sugar (I purchased it at
Surfas
. Can be found on
Amazon
(affiliate link) or
King Arthur
)
Equipment needed:
Kitchen shears
Parchment paper
Baking sheets
Instructions:
Make the Bread Dough:
Heat milk, butter, sugar over low heat until butter is melted.
In a small bowl, lightly beat the egg. Temper the egg with a little of the milk mixture, then pour it into the milk mixture and mix well. Add salt. Set aside to cool a bit.
In another small bowl, combine yeast and 1 T of sugar. When the milk mixture is lukewarm, add 1/4 cup to bowl and whisk together. Set aside for yeast to start bubbling.
When the yeast is ready, start making the dough. In a stand mixer with the dough hook attachment, add 10 dl (about half the flour). Add the remaining milk mixture. Add the yeast mixture. Mix dough until combined and then add remaining flour, 1 dl at a time, until dough pulls away from the sides of bowl. Remove from bowl onto floured surface. Knead a few minutes then set aside in a bowl. Cover with clean kitchen towel and set in a warm area to rise for 1 hour.
After dough rises for an hour, punch down dough and knead about 50 times on a floured surface.
Divide dough to make loaves (we made 8 loaves so we used the scale to equally divide the dough.)
Shaping & Baking:
With a rolling pin, roll out dough into a rectangle on a floured surface. Spread softened button on the entire surface of the dough (we used about 1 T per loaf). Sprinkle sugar to cover the butter, then sprinkle cinnamon.
Roll the LONG side tightly and seal the edges by pinching the dough together. Place seam side down on a parchment lined baking sheet.
Using kitchen shears, cut the dough into 1/4" sections and shape (see photos above). Place cut sections in the pattern: Center, Left, Right, Center, Left, Right, and repeat.
Cover the loaves with a kitchen towel and place in warm area to rise another hour.
After an hour, preheat oven to 350 degrees F.
Brush loaves with a lightly beaten egg (no added water) and sprinkle with the delicious Swedish pearl sugar.
Bake at 350 degrees for 15-20 minutes. (Of course, it depends on how many loaves you make. When we made 8 loaves, they baked for 19 minutes.)
After 5 minutes, move loaves onto racks to cool. These are delicious warm from the oven. Can be kept at room temperature until you gift them to friends and family during the holiday season (or keep them for yourself to eat!) They are lovely warmed in the toaster over too. Enjoy!
I made this!
Thanks Susan and Rick for years of friendship and for sharing this wonderful tradition with me!
Merry Christmas! ~ Mary the Food Librarian
Notes:
Savor The Flavour
has a recipe that includes cardamom and a orange glaze. They have the segments go right or left (we have right, left, and center) and they make one big log.
BBC Food has a video
(with really interesting music) and they make two cuts (left and right) and one big log.